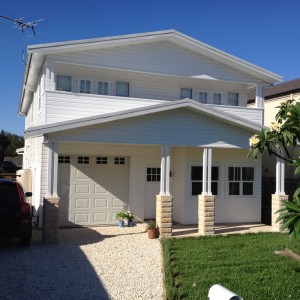 Rejuvenate your tired House with exquisite Exterior Cladding solutions
If the exterior walls of your home are appearing tired and worn it makes your house appear neglected and more run down that what it really is! The exterior of a house has a massive impact on its overall appearance. Your home is the greatest investment you will make in your life time, with it comes some maintenance requirements which keep it in good condition and enable you to feel proud each time you arrive home.
We understand how much aesthetic appeal is important for every owner. We know that your home is the one place you return to every day where you can feel secure, comfortable and truly relaxed, Peter Bracey has worked for the last 47 years to provide you with the best exterior cladding solutions to keep your home in the best condition possible.
Effects of Extreme Weather and Ageing
After years of standing up against all kinds of weather conditions from extreme heat to freezing cold, storm and hail, even the strongest walls will eventually wear and tear. Sydney's weather is not favourable to most construction materials you may observe many deface properties in and around the city. There are particular wall cladding materials that are built to withstand such weather conditions and have a much longer life expectancy than regular materials.
Other Advantages of Our External Cladding Services
We urge every homeowner who feels discontented with their walls to go for weatherboards.  There is more to cladding than weather protection. Take for instance:
Cost-saving: Investing in exterior cladding panels will save you money in the long run, they are more durable and reliable.
Improved Energy Efficiency: If your walls have gaps and leaks, it is likely you are wasting a lot of money on energy bills.  Fibre cement cladding does not insulate in either hot or cold temperatures. Other Exterior wall cladding however, are efficient and cost effective solutions helping to reduce energy consumption.
Aesthetic appeal: An added bonus is exterior wall cladding looks great and will improve the overall appearance of your home.
Exterior house cladding also helps to sound proof your home from unwanted outside noise.
Why Trust Us?
We have worked with over 5,000 happy homeowners in Sydney and we can advise you on the best way to make your home more efficient and cost effective. With our expertise and great exterior wall cladding ideas, we can come up with the ideal solution for your home.
Only the Best Exterior Wall Cladding Materials
We have invested in both personnel and equipment to provide you with an efficient and professional service.  We use only the best Australian made materials including Palliside® weatherboards. These are strictly tested and known for their resistance against local weather elements. With research we are aware imported products are not optimised for Australian weather and have a short life expectancy.
Other exterior cladding materials in the market include vinyl, timber, colorbond® and fibre cement cladding.  However over the years Palliside® cladding has emerged as our favourite product for numerous reasons.
Why We Love Insulated Palliside UPVC Vinyl Cladding Weatherboards
We recommend and use insulated Palliside UPVC vinyl cladding weatherboards for our projects.
Some of their benefits include:
Low maintenance: Once insulated Palliside UPVC weatherboard is fitted, you will have a genuine guarantee of 25 years against fading and powdering from the Australian manufacturer.
The board is 7mm thick and used in new construction and thus offers resistance against the harshest elements.
Natural beauty: These weatherboards have a specially formulated uPVC top coating. They match the look of natural timber and are visually appealing.
High standards: These boards are made to Australian standards and are favoured and accepted in the construction industry.
Give us a call for further information or a quote your next Palliside exterior house cladding project.
View the latest projects on our website including the amazing work on a Ryde Area Sydney home.
Contact us today for your entire house cladding needs, you won't regret this decision!
Frequently Asked Questions About Palliside Cladding
Palliside UPVC Vinyl cladding has become one of the more popular external cladding options in Australia, and is being used by more and more people across the country. With its rise in popularity comes questions from prospective users and interested parties about why Palliside is one of the best external cladding materials. Some of the more popular of these are detailed below: