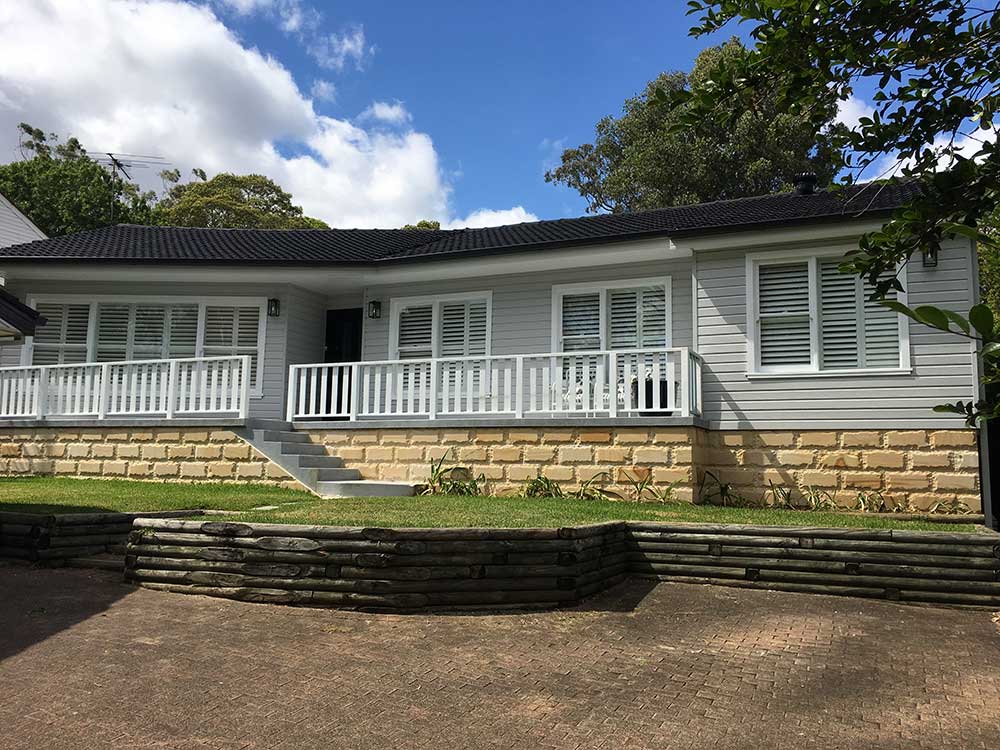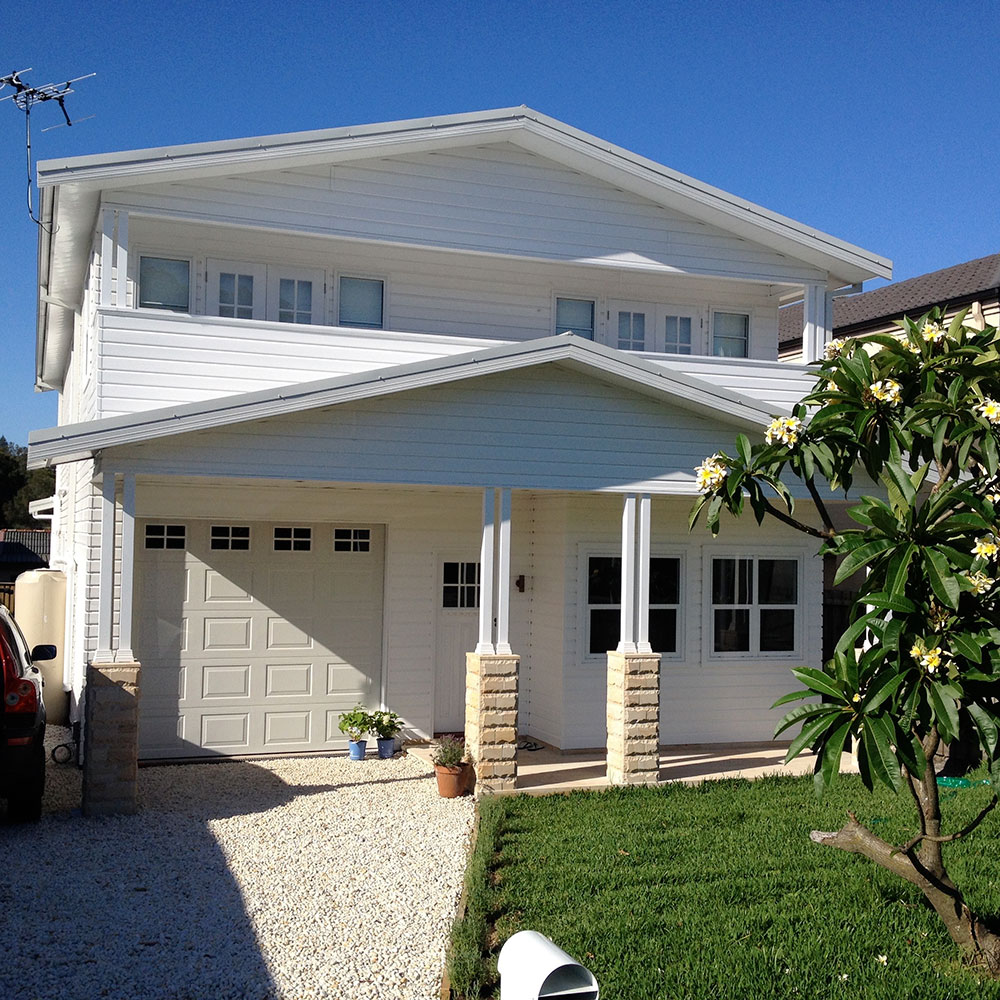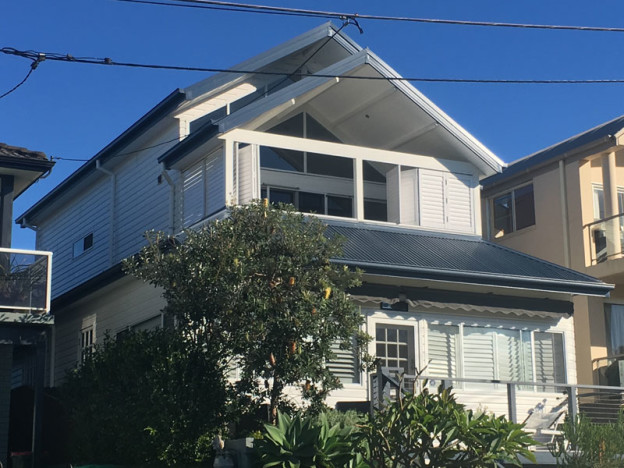 Palliside Cladding
Many homeowners choose Palliside Cladding over other weatherboards and materials for exterior wall cladding because of the benefits they provide. With the superior finish of these weatherboards, homes can have the natural charm and appeal of timber minus the peeling, fading, powdering, rotting and termite attack and other problems that homeowners often encounter. Designed and engineered in Australia to withstand Australia's extreme climate, Palliside is co-extruded and has a unique UV protection layer. The board's solid colour and 7 mm thickness contribute to it's durability.
Palliside Cladding also serves as great external house cladding for properties located in Australia's bush fire zones. With their durable finish, these weatherboards are also suitable for houses in tropical cyclone region C or terrain category 3, as defined in the wind loading code AS1170.2. These weatherboards also come with an anti-capillary channel that prevents moisture, wind, and pests from getting behind the walls. They require minimal maintenance – homeowners only need to clean them with soap and water.
PALLISIDE WILL NOT SUPPORT COMBUSTION
FIRE INDICES: AUSTRALIAN STANDARD 1530.3
Ignitability 0 
Heat Evolved 0 
Spread Of Flame 0 
Smoke Developed 8 
The Benefits of Using Palliside for External Wall Cladding Products:
Maintains colour because of its unique UV protecting top coat
7 mm thick with UV protection to with stand hail storms
Can be used in tropical cyclone rated C regions
Does not warp from the sun

Suitable for bushfire designated areas (nil fire ignition rating)

Palliside will not burn 

Designed to meet Australian standards, Type A construction material, designed to be used in new construction
Provides acoustic and thermal insulation
Has a 25 year genuine warranty by the Australian manufacturer
External wall materials have been used in Sydney to clad timber framed houses since first settlement
Timber weatherboards were used prior to the second world war. After the war there was a shortage of building material and so fibro (Asbestos)  was used. Since the 1970s aluminium, vinyl and Palliside UPVC weatherboard  have been used to clad over these houses to eliminate the high cost of maintenance.
Palliside Cladding – the most popular choice
With Palliside Cladding you can have the look and charm of weatherboards without the worry and cost of maintenance, or concerns about corrosion, peeling or vermin attack. It provides UV stability and strength and with it's cellular foam construction it is a 7mm thick weatherboard with solid colour throughout, designed and engineered for Australia's extreme climate. It will not support combustion and can be used in bush fire zoned regions of Australia (Palliside is being used in the reconstruction of houses in the bush fired ravaged areas of Victoria). It can be used in tropical cyclone region C or terrain category 3 as defined in the wind loading code AS1170.2. Palliside has a UV protection layer designed uniquely for Australia. The anti-capillary channel when the boards are locked together prevents vermin, moisture and wind getting behind the walls. It is simply cleaned with soapy water.
Click here to read more about the history of Palliside Cladding in Sydney.
Advantages of Palliside Cladding:
Palliside Clad homes are hail damage proof
Palliside weatherboards will not warp

approved in bushfire designated areas (nil fire ignition rating)

Palliside will not burn

is made & designed in Australia
insulates against heat/cold
Palliside clad houses have better insulation against acoustic disturbance
has a 25 year Australian warranty by the Australian manufacture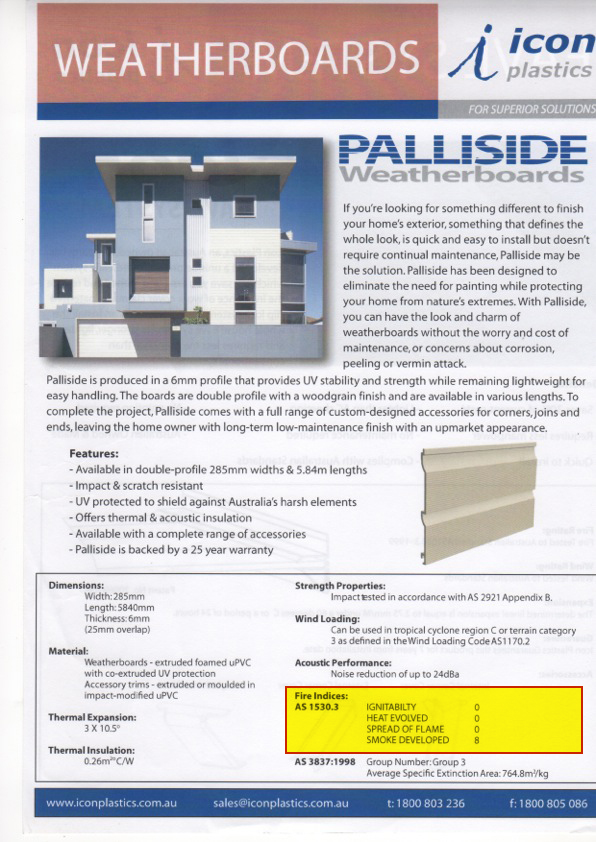 Palliside Cladding Sydney
Palliside is an Australian engineered and made primary cladding, which is fitted directly to the timber frame of your home in new construction or as a secondary cladding over fibro and timber. Palliside's unique duel extrusion process provides a cellular core which insulates your home and also absorbs expansion and contraction, hence it will not warp and boards are joined with a waterproof and vermin proof joiner.
The history of Palliside Cladding Sydney & Australia
Palliside Wall Cladding is a uniquely Australian product, designed specifically for the harsh Australian climate. It has been in use in Australia for over 35 years and due to their superior material the first homes fitted in Palliside still look as good today as the day they were Clad.
Icon, the manufacturer of Palliside Wall Cladding, is an Australian company specialising in various plastic products and is also a preferred supplier to the automotive industry.
Genuine 25-year manufacturer warranty
Icon provides a genuine 25-year written warranty with all jobs installed by Peter Bracey, the exclusive NSW wholesaler and installer of Palliside Cladding, Sydney.
Peter Bracey has found that the majority of his projects now include stripping existing vinyl and aluminium clad homes and recladding them in superior Palliside wall cladding products.
The exterior coating is the most superior UV resistance product developed for cladding, it will retain its appearance over the years!
"Perfection, nothing less!" Since 1969!
These are Before & After Photos, Please click on an image to enlarge