New South Wales Government Regulation For Insulated Vinyl Cladding
The NSW government has introduced legislation governing insulated cladding and in particular vinyl cladding with polystyrene insulation ( refer to the posting below ). 
At this point in time it only applies to buildings of two or more storeys, which encompasses all two storey homes at this time. Why single storey homes with cladding comprising of polystyrene insulation are not included, I suspect, is because of the sheer number involved.
There are tens of thousands of single dwelling homes with insulated vinyl cladding containing polystyrene and polystyrene cladding that has been rendered in NSW.
KEEP YOUR FAMILY SAFE ONLY INSTALL NON-FLAMMABLE AUSTRALIAN MADE PALLISIDE CLADDING ON YOUR HOME
Unlike Vinyl Cladding which has a polystyrene foam backing, our Palliside Cladding conforms with the Australian Standard AS1530.3.
Ignitability 0

Heat evolved 0

spread of flame 0

Smoke evolved 8
The History of Vinyl weatherboard cladding in Sydney
Vinyl Cladding was first introduced during the 1950's to the US and Canadian market as an alternative to aluminium siding, which was found to wear and degrade quickly over time and powder, fade and dent.
In the early 70s it was imported to Australia also as a replacement for aluminium cladding. Through cladding suppliers, Sydney homeowners gained access to this product. It was hoped that it would prove to have greater impact resistance and durability for Australia's harsh climate.
Why we used to love Vinyl Cladding
Vinyl Cladding quickly became the standard outside wall cladding product for most Australian homes. The low cost of vinyl house cladding back then was enough reason for homeowners to use the material.
Since vinyl wall cladding in Sydney was imported it was cheaper to produce and seemed to tick all the boxes; claiming to be cost-effective, weatherproof, maintenance free, improve outdoor wall appearance, and conserve energy.
Sydney-based suppliers of vinyl house cladding had a large market to cater to during this time. Prices of vinyl weatherboards were at an attractively low level, which made the deals even better to homeowners.
What we have learnt about Vinyl Wall Cladding in the Australian Climate
Working in the home improvement industry for over 50 years we have witnessed the impact of the harsh Australian environment on vinyl cladding prices and how it dramatically impacts the whole look of your home.
Vinyl house cladding is made from a mixture of chemicals and plastics (0.5 to 1mm in thickness) and can have a polystyrene backing. This combination makes the material perfectly vulnerable to a range of environmental factors.
Why Not To Use Vinyl Weatherboard Cladding!
Vinyl weatherboard cladding has been used to cover weatherboard and fibro (asbestos) houses since the start of the 1970's. Most of the  vinyl weatherboard cladding is imported from countries like the USA, Canada or China and is not built specifically for the harsh Sydney climate. Due to the use of the inferior product  on houses, the breakdown of the product in Australia results in fading, warping, powdering and melting in the sun. The Vinyl Cladding then begins peeling off the walls of the house in storms, becoming brittle and subject to hail damage. Palliside UPVC weatherboards are made and designed in Australia and will not warp, melt, peel, become brittle or be damaged by hail!
What we have seen:
Vinyl House Cladding expands and contracts due to extreme temperatures.
Warping and buckling
Water/rain penetration due to gaps

Polystyrene foam (backing) acts as a barrier for the condensation build up in your home becoming very damp- creating fungi and mildew growing between the polystyrene and the vinyl cladding. (Cockroaches and ants love nesting in dark dewy places)

Polystyrene, even with a fire retardant is highly flammable (refer to London fire disaster & Dubai fire disaster)

Thin exterior cladding (only 0.5-1mm thick) becomes damaged very easily by anything from cricket balls to hailstones.
Colouring begins to fade unevenly based on sun exposure.
It is made for decorative purposes only- not strong enough for construction purposes.
Vinyl wall cladding can melt in high temperatures.
Polystyrene is toxic in a fire.
Why we Love and Recommend Palliside UPVC Weatherboard cladding
Palliside UPVC cladding is made and designed in Australia to handle our harsh climatic conditions. It is the perfect solution for creating a brand new up-market weatherboard look for your Sydney home affordably.
Palliside Cladding has a stylish weatherboard finish with superior quality, strength and durability, as opposed to cladding made from Vinyl, it is eco-friendly thus promoting sustainability and energy conservation. Peter Bracey is Sydney, NSW's only approved wholesaler and installer.
Here are some of the reasons we love and use Palliside:
Truly Low Maintenance
Encases Fibro/Asbestos Homes Safely
Top Range Insulation for temperature control – 7mm thick
Cellular foam construction for added strength and durability
Colour is implemented throughout the whole board for solid long-lasting colour.
Anti-Capillary Channels ensure boards lock together preventing wind and rain penetration and also vermin nesting.
Structurally engineered for construction of new homes.
Double Profiled making it easy and quick to install.
Durable inner core protects from warping, buckling, hail damage, expanding and contracting.
Suitable for re-cladding
Ideal for 2nd stories
25 year Australian Quality Warranty
Palliside UPVC Cladding Weatherboards meets a range of Australian weather and building regulation requirements:
Can be used in Tropical Cyclone C/Terrain category 3 (as defined by wind loading code AS1170.2)
Noise Reduction of up to 24dBa
Type A primary construction material (under Building Code of Australia)
Inbuilt UV protection/stabilisers
Impact Tested (AS 2921 Appendix B)
0 Ignition Rate according to Fire Indices AS1530.0
Palliside is currently being used to reconstruct homes across Australia that have been severely damaged by bushfires as it is fire rated for these regions.
Looking for an alternative to regular PVC outdoor cladding? 
If you are looking for a better alternative to PVC cladding, and would like to copare vinyl cladding vs weatherboard Palliside cladding, Peter Bracey has the answer. Most of the older PVC house cladding can now be replaced with superior UPVC Palliside Cladding. If you are thinking about replacing any old or worn PVC weatherboard cladding we can help. We offer competitive prices for a far a more refined and advanced product. Palliside last longer than regular pvc external wall cladding, especially against the harsh Australian climate. Give us a call and see how our Pallisde cladding compares with PVC external wall cladding. 
Why Choose Insulated Palliside Weatherboard?
When it comes to aesthetics and low maintenance qualities, Palliside cladding makes the best choice for homes. The weatherboards provide a unique finish, giving the home a natural charm. With Palliside cladding, Sydney homeowners don't have to worry about dilapidated aesthetics, pests, and high maintenance costs.
Apart from its aesthetic benefits, Palliside also provides a co-extruded UV protection layer. The weatherboards are made with a 7mm thick cellular core, which serves as protection and insulation against Australia's extreme weather conditions. They also have an anti-capillary channel, which protects the home's wall from moisture, wind and pests.
The UPVC weatherboards are fire-resistant, making them a suitable addition for homes located in Australia's bush fire zones. Some manufacturers also recommend using these weatherboards for properties in tropical cyclone region C or terrain category 3, as defined in the wind loading code AS1170.2.
Using Palliside cladding offers the following benefits:
Maintains colour.
The weatherboards will not powder
The material can withstand hail damage
The weatherboards will not warp because of the cellular core which absorbs expansion and contraction even after a long period of being exposed to extreme climate
The material is suitable for homes in bushfire designated areas (nil fire ignition rate)
The weatherboards are designed to meet the needs of Australian homes, including new construction
The material's cellular core provides insulation against the heat and cold
Manufacturers offer a genuine 25 year Australian warranty for these weatherboards
Click here to read more about the advantages of Palliside Cladding
Vinyl Wall Cladding
Under the BCA (Building Code Of Australia) Vinyl in house walls is a TYPE B material (ONLY FOR DECORATIVE PURPOSES, NOT TO BE USED AS A CONSTRUCTION MATERIAL). Palliside is a TYPE A (USED IN NEW CONSTRUCTION AS A PRIMARY CONSTRUCTION MATERIAL) Palliside has a FULL 25 year AUSTRALIAN guarantee. Vinyl has a pro-rata warranty (USUALLY FROM USA OR CANADA) of which only the first 5 years are maybe guaranteed! Then its pro-rata (FEND FOR YOURSELF) and good luck. (Check the following in GOOGLE: faded siding, melted siding, hail damaged siding. to find out more.)
WE are the ONLY company that trade under OWN name.
Peter has been in business since 1969
YOU ONLY GET WHAT YOU PAY FOR!
WHY NOT HAVE THE BEST?
ITS YOUR HOME!
"PERFECTION! NOTHING LESS!"
Vinyl was first imported from Canada & USA to Australia in the late 1970's. However it has been shown that they have serious performance issues in north America and particularly Australia with our extreme climatic conditions as they are not designed or engineered for Australia.
Insulated Palliside UPVC weatherboard compared to vinyl wall cladding
1. Buckling & Warping of Vinyl Cladding
Expansion and contraction from the extremes in temperatures in Australia warps & buckles it on the wall, because it's between 0.5mm/1mm thick and it will expand between 30 – 50 mm over a 6 – 8 metre length.
Palliside is 7 mm thick and the unique cellular core absorbs lateral expansion & contraction and it is guaranteed for a full 25 years by Icon Plastics in Australia NOT to buckle or warp on your home.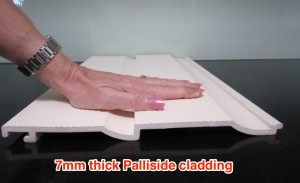 2. Water Penetration of Vinyl Cladding
Because of the expansion and contraction, it can't be joined and must be overlap and this is where water is able penetrate in to the wall cavity. Vinyl with polystyrene foam fitted as a backing forms a barrier to the condensation built up in your home, in winter resulting in dry rot and "damp wall syndrome", fungi growing between it and the original house cladding and mildew growing on the inside walls.
Palliside is joined using a water proof  joining system plus the insulation is built into the core and there is an air cavity behind the weatherboards to allow for air circulation.
3. Wind Damage to Vinyl
Because it is so thin (0.5 – 1mm) it has NO structural strength and 4o kph plus winds can peel it off wall.
Palliside has an anti-capillary channel and the boards ARE structural they interlock so no wind can get behind Palliside, hence it can withstand a category C  tropical cyclone, meeting cyclone test AS1170.2
4. Brittleness / Hail damage to vinyl cladding
Because of insufficient UPVC stabilisers and the thinness of the material it easily damaged by flying objects such as balls and objects thrown up by lawn mowers and hail leaves it looking like it has been shot with a machine gun. (Google Hail Damaged Siding or Hail Damaged )
Palliside weatherboards ARE hail proof in the 44 years I have been in business we have never had hail damage to Palliside.
5. Fading of vinyl cladding
The lack of sufficient UPVC stabilizers means the thin cladding fades as it powders and it does not fade evenly, fading is more pronounced where the sun is shining longest on the wall. (Google Faded Siding). The harsh Australian climate causes the thin vinyl to powder and become chalky, just like regular house paint does from the sun.
Palliside with its unique Australian engineered UV protection layer, is guaranteed against fading for 25 years by an Australian company (Icon Plastics). For Testimonials Click Here
6. Vinyl Wall Cladding is not a structural material
It cannot be use in new construction as it is ONLY decorative, as per the BCA (building code of Australia) AC or ply cladding must be fixed to the studs prior to fixing vinyl cladding to the walls. Palliside is an A-type building material as per the BCA and are used in new construction, fixed directly to the studs over breathable building paper
7. Vermin & Polystyrene Backed Vinyl Cladding Products
Polystyrene foam glued to the back of the vinyl cladding is packing to try and give it some rigidity, this is a magnet for cockroaches as the foam provides a nice warm home and ants seem to love to nest in the foam.
8. Vinyl Cladding and Insulation???
The insulation value of the foam backing is greatly reduced because of its variable thickness. Vinyl with polystyrene foam backing forms a barrier to the condensation built up in your home in winter resulting in dry rot and "damp wall syndrome", fungi growing between the vinyl siding and the original house cladding and mildew growing on the inside walls. As mentioned previously insulated palliside has the insulation built into the cellular core and the air trapped between the insulated Palliside and the existing fibro weatherboard or timber wall will also add additional R value, total R value estimated to be in excess of R2.5. Insulation is simply trapping air!
9. Vinyl Cladding – Melting
Vinyl walls have been MELTING in the sun after it has been installed: (Check the following in Google Melted Vinyl Siding or Melted Vinyl to find out more)
With the new window regulations with energy efficient glass you will see how the reflection from your neighbours windows will melt the vinyl cladding. By googling the sites mentioned you will understand the seriousness of this problem. Palliside is not affected and will not melt like vinyl does.
Palliside is being used in the reconstruction of homes in the bushfire ravaged areas of Victoria, it has a nil fire ignition rate and will not support combustion and it will not melt in the sun or from the reflection of E glass windows .
Check out all the benefits of Palliside for your outdoor house walls. You can find everything you need to know on our website, or contact us today.
Peter & Lesley Bracey
Email: [email protected]
Sole Authorised NSW Wholesaler and Installer based in Sydney for Icon Plastics Pty Ltd Building Products.
(Palliside UPVC Weatherboards and Icon UPVC Eave Sheeting System)