Below is a Federation House Renovation project recently completed in Bexley by Peter Bracey.
The original house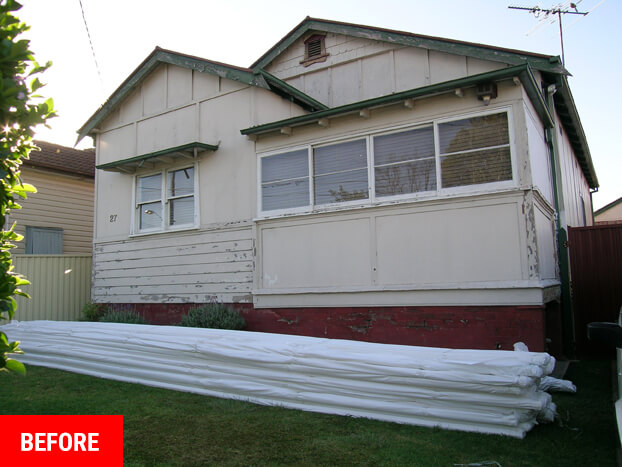 This federation home in Bexley was over 100 years old! It was structurally sound, but in need of an exterior makeover to renew it's former glory.
The owner's requirements
The house had a rusted out corrugated iron roof, dilapidated facias, rusted gutters, old wooden windows and old enclosed verandah at the front. All needed replacing.
The window hoods were about to fall off!
Peter Bracey breathed new life into this old home!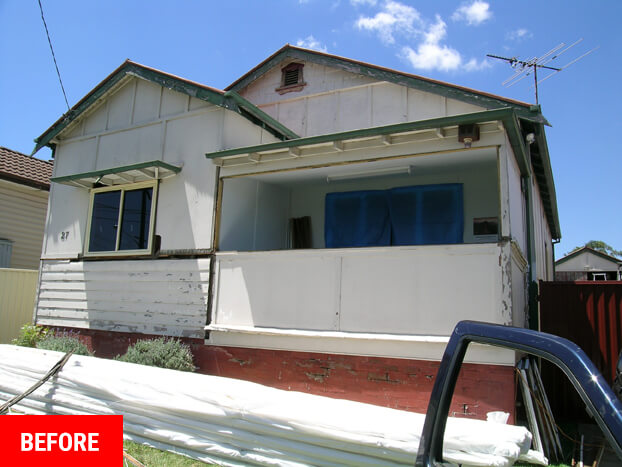 The roof was stripped, the old battens replaced, a 50m m foil insulating blanket was laid over the battens and then a new green Colorbond roof fitted.
The barge cappings and barge boards were covered in Federation Red Colorbond Roofing.
To reduce ongoing maintenance of the building, the exposed rafters were boxed-in and Colorbond Federation Red facia cover with new gutters and downpipes were installed with new Eave-sheet to finish.
The under side of the back patio roof was also lined in eave lining.
New Bracey architrave insulated security laminated glass windows with security locks and fly screens were installed.
Inside timber reveals and architraves to match the federation timber inside the home also fitted.
The window hood above the front window was renewed and clad to be maintenance free.
The old fibro and timber cladding was changed to Palliside Cladding, Australian-made and engineered with 7mm structural UV resistant cladding.
The federation colour scheme was followed in keeping with the age of the home.
Restored to it's formerly glory and set for another 100 years!
This home was superbly restored to it's formerly glory and will only need to be washed with a gurney to keep it looking pristine for another 100 years!
Please click on an image below to enlarge