A well maintained roof will improve longevity and value of your home. People sometimes let roofs go for decades longer than they should and then wonder why the repair bill is so expensive, or why no-one will buy it when they try to sell. Prevention is, as they say, better than a cure. However, for either prevention or cure we have decades of experience in the area.
The process to restoring both terracotta and concrete roofs is very similar. Here is our general process:
Safety comes first. Power lines are insulated, tradesmen are provided with relevant safety equipment, and the site is generally checked to be safe.
Broken roof tiles are replaced with matching replacements. We find an average of 50 tiles need to be replaced on the roof. This might include small chips through to large breaks.
The roof is then cleaned with a high pressure water gun, starting from the top of the roof and working down to the bottom.
An anti-fungicide is then applied to the tiles. This kills lichen spores, mould and mildew that may have built up over time.
If they are rusted, valleys are changed to Colorbond to match the new roofing colour you have chosen.
Ridges are bedded where necessary.
Ridges and gable ends are pointed in Flex-point which allows for expansion and contraction (unlike regular cement which can crack much more easily).
Next, 2 coats of specialised Nu-Tech roofing membrane is applied to the tiles (both concrete and terracotta). This product has a 12 year guarantee. It brings out the natural colour of terracotta, and has a colour range for concrete. It gives the impression of a brand new roof.
Last but not least, we clean up and go home!
Stop Press: The latest technology from Nu-Tech allows us to change the colour of terracotta & concrete tiles using Nu Tech NXT Cool Zone Roofing Membrane.
We are able to now paint the terracotta & concrete using a specialised etching system.
We are proud to be on the forefront of innovative new technology to keep your house cool, protect your roof, and save money on power bills.
One particular product we will use on your restored roof is NXT Cool Zone. This coating uses an amazing new thermal protection technology that will actually help reduce the temperature of your home. NXT Cool Zone is able to reflect a great deal the sun's heat to leave your roof tiles noticeably cooler without painting it white (which used to be the only other way of getting the same effect). In addition it uses a unique compound to help the tiles retain their gloss, making your new roof look better, for longer.
100% water based
Ultra durable
Eliminates bacteria, and safe for potable water collection
100% waterproof
Extensive colour range
Satisfies Council Planning and Environmental controls for visual amenity
Contributes to energy rating requirements
Conforms to USA EPA Energy Star® Cool Roof requirements for roof slopes above 10 degrees which require a minimum 30% TSR (Total Solar Reflectance)
Contains Teflon® and nano-technology for improved water beading and dirt resistance
Cool roofing helps with broader urban cooling
Reduces the cost of cooling your home
Gloss or low sheen finish
12 Year Manufacturer's Warranty
As you can see in the infographic below, there is a considerable difference in roof and subsequent room temperatures between using NXT Cool Zone and not. We include this as a standard part of a roof renovation.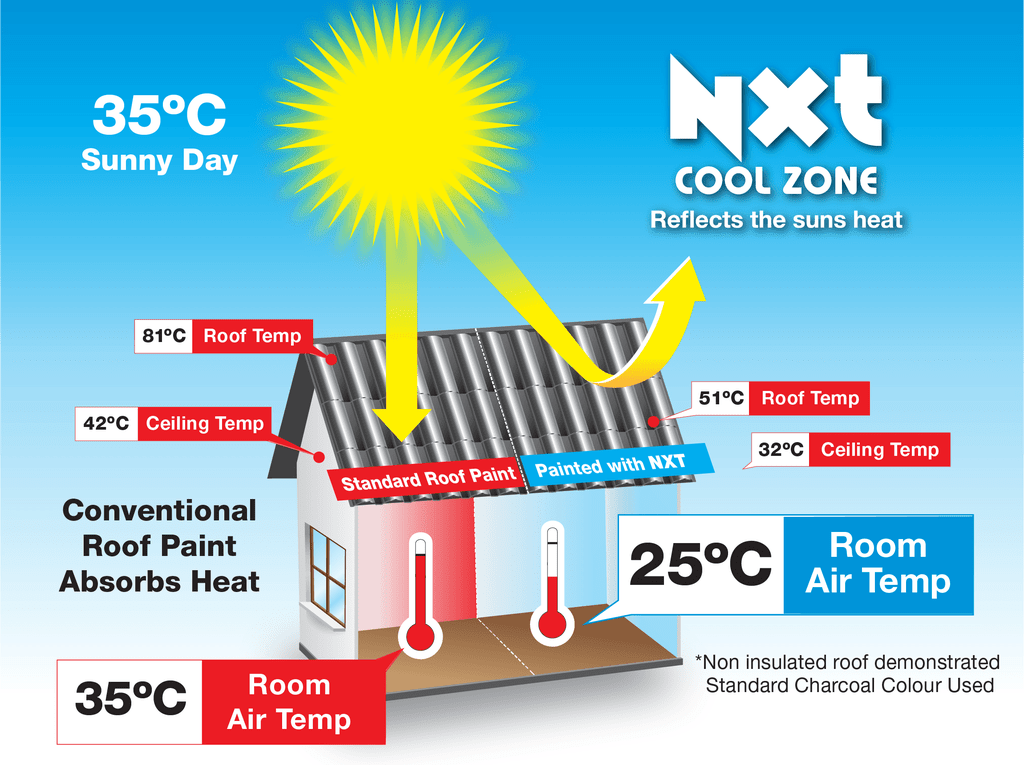 Examples of Terracotta Tile Roof Restorations in Sydney
Up until the 14th century, Terracotta (or Earthenware) was the only known type of ceramic used for sculpture, water pipes & vessels, bricks, or of course roof tiling. This hard-wearing basic ceramic can last for many thousands of years if kept free of abrasive agents.
For this reason, a terracotta roof restoration may only take 3 days, and after which your roof will more or less look brand new. for example, many of the houses in the photos below are over 60 years old but you would never know. They look like they were just built!
Click on an roof tile restoration image to enlarge it
Examples of Concrete Tile Roof Restorations in Sydney
Maintaining concrete roofs is important. Many entire suburbs in Sydney have roofs so old the entire original coating is gone from the tiles. When this occurs the tiles can become porous and begin to absorb water. Over time, this can add 6-7 tonnes of actual weight to the roof which, in turn, adds extra stress to trusses and the frame of the house.
If you ever see a roof that sags, this could be the cause. Roofs are not designed to take such extra weight. Sags can quickly change to cracks, and cracks can require significant cost to repair.
With a concrete tile roof restoration, your roof will be waterproof and weatherproof for another 50 years. It will also be stronger, as concrete tiles do not reach their maximum strength for 50 years or more. 
Interestingly, concrete 'cures' over time in the same way that in fact that stones becomes harder over time. If you stand on a new tile it will be more likely to crack as it is still 'green' (as if it were a sapling rather than rigid like a fully grown tree).
Please click on an image to enlarge