Why Choose Insulated Palliside Weatherboard?
When it comes to aesthetics and low maintenance qualities, Palliside cladding makes the best choice for homes. The weatherboards provide a unique exterior finish, giving the home a natural charm. With Palliside cladding, Sydney homeowners don't have to worry about dilapidated exteriors, pests, and high maintenance costs.
Apart from its aesthetic benefits, Palliside also provides a co-extruded UV protection layer. The weatherboards are made with a 7mm thick cellular core, which serves as protection and insulation against Australia's extreme weather conditions. They also have an anti-capillary channel, which protects the home's wall from moisture, wind and pests.
The UPVC weatherboards are fire-resistant, making them a suitable addition for homes located in Australia's bush fire zones. Some manufacturers also recommend using these weatherboards for properties in tropical cyclone region C or terrain category 3, as defined in the wind loading code AS1170.2.
Using Palliside cladding offers the following benefits:
Maintains colour and will not fade
The weatherboards will not powder
The material can withstand hail damage
The weatherboards will not warp because of the cellular core which absorbs expansion and contraction even after a long period of being exposed to extreme climate
The material is suitable for homes in bushfire designated areas (nil fire ignition rate)
The weatherboards are designed to meet the needs of Australian homes, including new construction
The material's cellular core provides insulation against the heat and cold
Manufacturers offer a genuine 25 year Australian warranty for these weatherboards
Click here to read more about the advantages of Palliside Cladding
Vinyl Wall Cladding
Under the BCA (Building Code Of Australia) Vinyl in house walls is a TYPE B material (ONLY FOR DECORATIVE PURPOSES, NOT TO BE USED AS A CONSTRUCTION MATERIAL). Palliside is a TYPE A (USED IN NEW CONSTRUCTION AS A PRIMARY CONSTRUCTION MATERIAL) Palliside has a FULL 25 year AUSTRALIAN guarantee. Vinyl has a pro-rata warranty (USUALLY FROM USA OR CANADA) of which only the first 5 years are maybe guaranteed! Then its pro-rata (FEND FOR YOURSELF) and good luck. (Check the following in GOOGLE:  faded siding, melted siding, hail damaged siding. to find out more.)
WE are the ONLY company that trade under OWN name.
Peter has been in business since 1969
YOU ONLY GET WHAT YOU PAY FOR!
WHY NOT HAVE THE BEST?
ITS YOUR HOME!
"PERFECTION! NOTHING LESS!"
Vinyl was first imported from Canada & USA to Australia in the late 1970's. However it has been shown that they have serious performance issues in north America and particularly Australia with our extreme climatic conditions as they are not designed or engineered for Australia.
Insulated Palliside UPVC weatherboard compared to vinyl wall cladding
1. Buckling & Warping of Vinyl Cladding
Expansion and contraction from the extremes in temperatures in Australia warps & buckles it on the wall, because it's between 0.5mm/1mm thick and it will expand between 30 – 50 mm over a 6 – 8 metre length.
Palliside is 7 mm thick and the unique cellular core absorbs lateral expansion & contraction and it is guaranteed for a full 25 years by Icon Plastics in Australia NOT to buckle or warp on your home.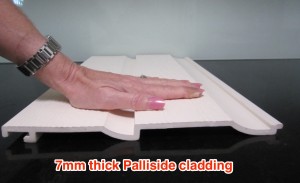 2. Water Penetration of Vinyl Cladding
Because of the expansion and contraction, it can't be joined and must be overlap and this is where water is able penetrate in to the wall cavity. Vinyl with polystyrene foam fitted as a backing forms a barrier to the condensation built up in your home, in winter resulting in dry rot and "damp wall syndrome", fungi growing between it and the original house cladding and mildew growing on the inside walls.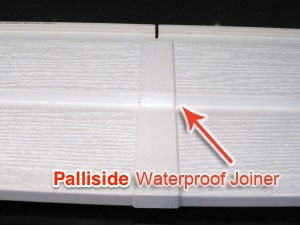 Palliside is joined using a water proof  joining system plus the insulation is built into the core and there is an air cavity behind the weatherboards to allow for air circulation.
3. Wind Damage to Vinyl
Because it is so thin (0.5 – 1mm) it has NO structural strength and 4o kph plus winds can peel it off wall.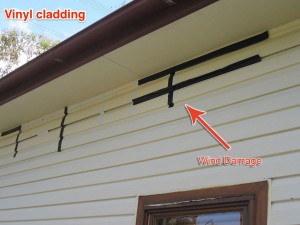 Palliside has an anti-capillary channel and the boards ARE structural they interlock so no wind can get behind Palliside, hence it can withstand a category C  tropical cyclone, meeting cyclone test AS1170.2
4. Brittleness / Hail damage to vinyl cladding
Because of  insufficient UPVC stabilisers and the thinness of the material it easily damaged by flying objects such as balls and objects thrown up by lawn mowers and hail leaves it looking like it has been shot with a machine gun. (Google Hail Damaged Siding or Hail Damaged )
Palliside weatherboards ARE hail proof in the 44 years I have been in business we have never had hail damage to Palliside.
5. Fading of vinyl cladding
The lack of sufficient UPVC stabilizers means the thin exterior cladding  fades as it powders and it does not fade evenly, fading is more pronounced where the sun is shining longest on the wall. (Google Faded Siding). The harsh Australian climate causes the thin vinyl to powder and become chalky, just like regular house paint does from the sun.
Palliside with its unique Australian engineered UV protection layer, is guaranteed against fading for 25 years by an Australian company (Icon Plastics). For Testimonials Click Here
6. Vinyl Wall Cladding is not a structural material
It cannot be use in new construction as it is ONLY decorative, as per the BCA (building code of Australia) AC or ply cladding must be fixed to the studs prior to fixing vinyl cladding to the walls. Palliside is an A-type building material as per the BCA and are used in new construction, fixed directly to the studs over breathable building paper
7. Vermin & Polystyrene Backed Vinyl Cladding Products
Polystyrene foam glued to the back of the vinyl cladding is packing to try and give it some rigidity, this is a magnet for cockroaches as the foam provides a nice warm home and ants seem to love to nest in the foam.
8. Vinyl Cladding and Insulation???
The insulation value of the foam backing is greatly reduced because of its variable thickness. Vinyl with polystyrene foam backing forms a barrier to the condensation built up in your home in winter resulting in dry rot and "damp wall syndrome", fungi growing between the vinyl siding and the original house cladding and mildew growing on the inside walls. As mentioned previously insulated palliside   has the insulation built into the cellular core and the air trapped between the insulated Palliside and the existing fibro or timber wall will also add additional R value, total R value estimated to be in excess of R2.5. Insulation is simply trapping air!
9. Vinyl Cladding – Melting
Vinyl walls have been MELTING in the sun after it has been installed: (Check the following in Google Melted Vinyl Siding or Melted Vinyl to find out more)
With the new window regulations with energy efficient glass you will see how the reflection from your neighbours windows will melt the vinyl cladding. By googling the sites mentioned you will understand the seriousness of this problem. Palliside is not affected and will not melt like vinyl does.
Palliside is being used in the reconstruction of homes in the bushfire ravaged areas of Victoria, it has a nil fire ignition rate and will not support combustion and it will not melt in the sun or from the reflection of E glass windows .
Check out all the benefits of Palliside for your exterior house walls. You can find everything you need to know on our website, or contact us today.
Peter & Lesley Bracey
Free call 1800 631 541 24 hours 7 days
Email: [email protected]
Sole Authorised NSW Wholesaler and Installer based in Sydney for Icon Plastics Pty Ltd Building Products.
(Palliside UPVC Weatherboards and Icon UPVC Eave Sheeting System)