STOP PRESS:
The NSW government has introduced legislation governing insulated cladding and in particular vinyl cladding with polystyrene insulation ( refer to the posting below ). 
At this point in time it only applies to buildings of two or more storeys, which encompasses all two storey homes at this time. Why single storey homes with cladding comprising of polystyrene insulation are not included, I suspect, is because of the sheer number involved.
There are tens of thousands of single dwelling homes with insulated vinyl cladding containing polystyrene and polystyrene cladding that has been rendered in NSW.
KEEP YOUR FAMILY SAFE ONLY INSTALL NON-FLAMMABLE AUSTRALIAN MADE PALLISIDE CLADDING ON YOUR HOME
Unlike Vinyl Cladding which has a polystyrene foam backing, our Palliside Cladding conforms with the Australian Standard AS1530.3.
Ignitability 0
Heat evolved 0
spread of flame 0
Smoke evolved 8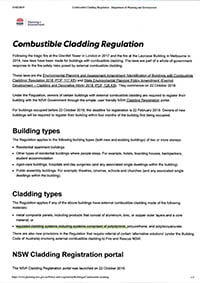 Please click the image to read the full combustible cladding regulation for this long overdue development.